EBUS will host a series of "Science Talks" this year and these are open to all students and parents.
Each session, we are joined by a faculty member or research student from UNBC presenting on the interesting research they are involved in and the variety of pathways that exist in university Science!
Students, come join us to hear more about what you could with a science degree.
2021 Science Talk Schedule and Links
Join us on February 11th at 1pm, featuring Jenna Burke.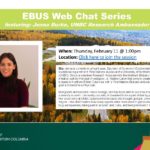 Join us on March 4th at 5pm, featuring Zach Fleck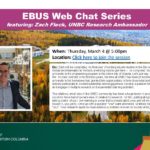 Join us at this link at the scheduled times (use Chrome or Firefox as your browser)