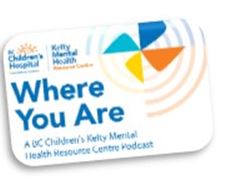 BC Children's Kelty Mental Health Resource Centre is excited to launch Season 2 of our podcast – 'Where You Are'
Where You Are is now back with more real stories, expertise, and practical tips to help families and caregivers support child and youth mental health.
Learn more and subscribe today here:
The first episode of the season is already out, and is one you won't want to miss – in a collaboration with our partners at FamilySmart, we speak to a youth and expert about self-harm. Check this episode out here .
Other upcoming topics include: Healthy eating and mental health; vaping; technology and your family, and more!