Course selection time for fall 2020 with EBUS Academy!
The first step in choosing your courses for the fall is to watch the presentation for your grade
for grade 10 students https://tinyurl.com/ycuxyd26
for grade 11 students https://us.bbcollab.com/collab/ui/session/playback/load/3adcbdd5da754755b6bbd167b8a16d2a
for grade 12 students https://us.bbcollab.com/collab/ui/session/playback/load/dd5d2cdec9e84dedbbda59c13dcfe02e
Each presentation contains very important information about the high school graduation program requirements, required courses, best practices for a successful school year, info on the Learning Support Funds and the required graduation assessments and more.
Once you have watched the video for your grade, students need to review the EBUS course selection booklet found on the web page. (Look under About>Welcome Package)  and scroll down to the Grades 10 -1 12 heading
)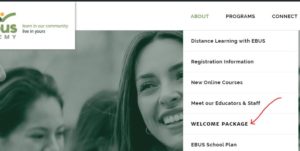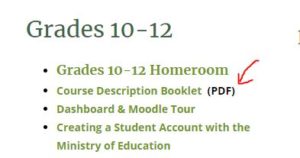 The booklet lists all the high school courses at EBUS along with a short description for each.  Look for the required courses for your grade along with electives.
To plan out the 4-5 courses you will start in September, use the EBUS course planning worksheet   As mentioned in the video above, check off the 4-5 courses you will start in the fall and list the remaining courses you plan to take in the remainder of the next school year in the NOTES FIELD.
Finally, to complete your course selection in MyEd you will need a login and password.  For grade 10s an email was sent May 29.  For grade 11s and 12s, an email will be sent to you on June 12 from sysadmin@myeducation.gov.bc.ca check your Junk/Spam mail folder if you do not see it by the end of the day, and if you still do not have it contact the help desk at EBUSHelpDesk@sd91.bc.ca  To help you with the course selection process in MyEd, read the How to do EBUS Online Course Requests document for step by step instructions.
The deadline for grade 10s is June 15, for grade 11s and 12s its Friday June 26.
If you have questions please email your academic advisor Chris Mushumanski at cmushumanski@sd91.bc.ca
Remember to complete your selection soon to be all set for the coming year!